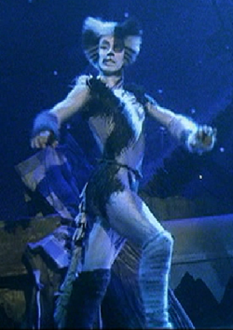 Alonzo is an elegant tom who is either black and white or yellow and brown, depending on the production. Some people believe him to be third in command after Munkustrap, as he fights Macavity after Munkustrap has been defeated, and also helps Munkustrap rescue Demeter from Macavity. Alonzo is a bit of a flirt, although not as obsessively so as the Rum Tum Tugger.
Portrayal
Edit
Alonzo is portrayed by Jason Gardiner in the 1998 film.
Ad blocker interference detected!
Wikia is a free-to-use site that makes money from advertising. We have a modified experience for viewers using ad blockers

Wikia is not accessible if you've made further modifications. Remove the custom ad blocker rule(s) and the page will load as expected.