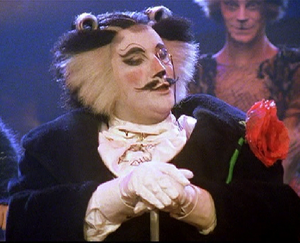 A "cat about town", a fat "twenty-five pounder" tom who has a black coat, resembling a suit, and white markings on his legs, resembling spats. Bustopher visits all the fashionable clubs and loves to eat. Jennyanydots appears to have something of a crush on him, as she swoons after he kisses her hand or gives her his buttonhole flower at the end of "Bustopher Jones". Bustopher Jones carries a large spoon or ladle (the size of a walking stick), and has a large red carnation in his buttonhole. His color pattern is similar to Mistoffelees', and some people believe him to be Mistoffelees' uncle.
Portrayal
Edit
Bustopher Jones is portrayed by James Barron in the 1998 film.
Ad blocker interference detected!
Wikia is a free-to-use site that makes money from advertising. We have a modified experience for viewers using ad blockers

Wikia is not accessible if you've made further modifications. Remove the custom ad blocker rule(s) and the page will load as expected.