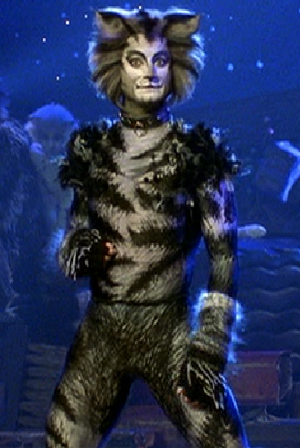 A tall, silver-gray and black tabby, Munkustrap is second in command of the Jellicle tribe after
Old Deuteronomy
. He possibly is the part with the most singing in the entire musical, but the part also requires strong dancing and acting skills. Many people believe him to be
Demeter
's mate, and he acts as 'Jellicle Protector' to the younger cats during the Macavity scares. It has been thought that he, along with
Rum Tum Tugger
and
Macavity
(and also possibly
Mistoffelees
) is the son of
Old Deuteronomy
. He sings about the Jellicle Ball in "The Invitation To The Jellicle Ball," as well as most of "The Old Gumbie Cat" and "Old Deuteronomy," and the entirety of "The Awefull Battle of the Pekes and the Pollicles." With the help of
Alonzo
, he rescues
Demeter
from
Macavity
after
Old Deuteronomy
has been kidnapped, and fights Macavity, though he is eventually defeated and the other cats must step in to defeat Macavity.
Portrayal
Edit
Munkustrap is portrayed by Michael Gruber in the 1998 film.
Ad blocker interference detected!
Wikia is a free-to-use site that makes money from advertising. We have a modified experience for viewers using ad blockers

Wikia is not accessible if you've made further modifications. Remove the custom ad blocker rule(s) and the page will load as expected.