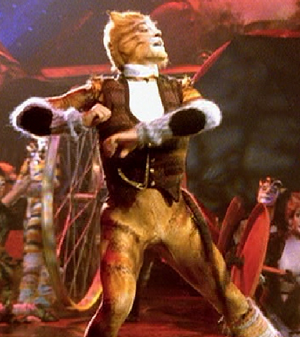 The Cat of the Railway Train, Skimbleshanks acts as a mascot and/or superviser to the Night Mail train. He is a yellow-orange tabby who, for his song "Skimbleshanks the Railway Cat", wears a conductor's vest, a collar with a bell, and conductor-type armwarmers. He is usually portrayed as being around
Jennyanydots
' age, maybe a little younger. He acts as a friendly "uncle" to all of the younger cats, and some people believe that
Etcetera
and
Electra
, or
Mungojerrie
and/or
Rumpleteazer
, are his children. He is possibly
Jellylorum
's or Jennyanydots' mate, more likely Jennyanydots. In the 1998 film, Skimbleshanks has a Scottish accent.
Portrayal
Edit
Skimbleshanks is portrayed by Geoffrey Garrat in the 1998 film.
Ad blocker interference detected!
Wikia is a free-to-use site that makes money from advertising. We have a modified experience for viewers using ad blockers

Wikia is not accessible if you've made further modifications. Remove the custom ad blocker rule(s) and the page will load as expected.