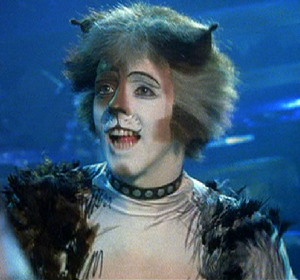 Tumblebrutus is an adolescent or young adult tom with a rectangular patch over his right eye, who likes to do exactly what his name suggests: tumble. He often performs flips and other acrobatic tricks, and dances some of the more difficult choreography in the Jellicle Ball, along with
Mistoffelees
,
Pouncival
, and sometimes
Skimbleshanks
. He is called Bill Bailey in the English and some European productions.
Portrayal
Edit
Tumblebrutus is portrayed by Fergus Logan in the 1998 film.
Ad blocker interference detected!
Wikia is a free-to-use site that makes money from advertising. We have a modified experience for viewers using ad blockers

Wikia is not accessible if you've made further modifications. Remove the custom ad blocker rule(s) and the page will load as expected.