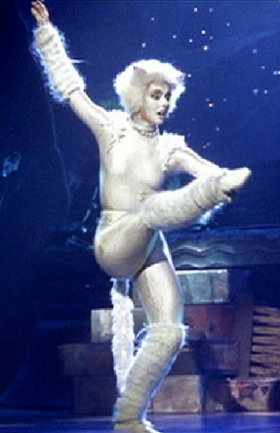 Victoria is a pure white, very flexible kitten, one of the foursome (
Jemima
, Victoria,
Etcetera
, and
Electra
). It is thought that she is the oldest of the four kittens. Victoria dances a solo at the beginning of the musical, right after the Prologue and "The Naming Of Cats." She appears to be very close with
Mistoffelees
, and most people believe them to be either siblings or mates. Victoria dances a pas de deux with
Plato
during the Jellicle Ball. Victoria is also instrumental to
Grizabella
's acceptance, as she is the first to touch her kindly after the final verse of "Memory."
Portrayal
Edit
Portrayed by:
Phyllida Crowley Smith in the 1998 film.
Sandra Kater in the New London Theatre.
Joyce Chittick in the North American tour.
Sara M. Reardon from 2007-2008.
Sarah Bumgarner in the current Worldwide Tour.
Note: Joyce Chittick volunteered with Stephen Bertles as Plato inside the Washoe County Medical Center in Nevada.
Ad blocker interference detected!
Wikia is a free-to-use site that makes money from advertising. We have a modified experience for viewers using ad blockers

Wikia is not accessible if you've made further modifications. Remove the custom ad blocker rule(s) and the page will load as expected.